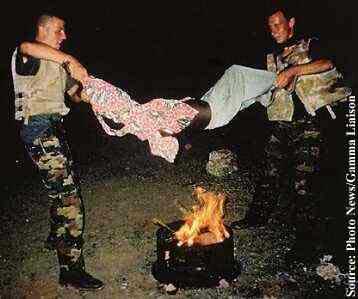 1993: Two U.N. Peacekeepers hold a Somali boy above an open flame.
India has a new first lady, except this time, she's the president. This past Saturday, July 21, 2007, Ms. Pratibha Patil made history by being the first woman to be elected to presidential office in India, marking what many see as a turning point for women's rights in the nation. Considering the sexism that limits many factors of life for women in India, including, but not limited to, healthcare, education, and even married life, this is an incredible victory for women throughout the country and a sign of hope for progress to be made in the future. The best of luck to Ms. Patil.
But as this good news comes for women in India, a strange twist on war crimes reminds us that women's rights and their value of life are not a priority to many, even those whose job is to preserve them. On the same day Ms. Patil found herself the center of attention, the news of women being abused on another side of the world made just a blip on the radar for the New York Times. According to a
Reuters report that the NYT featured on Saturday
that happened to be only one paragraph long, the United Nations is investigating more into quite disturbing reports of widespread sexual abuse committed by its peacekeepers in a unit stationed in the Ivory Coast. Apparently this is not a new problem, the news brief reminds us, as the U.N. has instituted a "zero tolerance" policy for sexual abuse since previous incidences of the same in other countries throughout Africa as well as East Timor, a country in Southeast Asia.
I question the capacity of conscience for some people, especially those who take full advantage of their position to help in order to harm. But I think those whom I question the most are
the people who come to the defense of people responsible for such crimes
. Why is it that those who are guilty of some of the greatest offenses known to man, abuses that surpass what human rights organizations ever thought to protect against, are often the ones who have a voice in the end?
Forgiveness is up to the victimized, as clearly demonstrated by South Africa's post-apartheid Truth and Reconciliation Commission, where a confession and a statement of forgiveness in most cases led to little to no punishment for the perpetrators of crime, except maybe trouble sleeping at night and the fear of karmic retribution. In the case of those victimized by U.N. Peacekeepers on the Ivory Coast or by American soldiers in Iraq, there is very little opportunity to set up similar tribunals. The issues would be relegated to state concerns, i.e. the business of Iraq v. United States more so than the humans involved coming face-to-face to discuss what happened and what the next steps should be. This is what creates the voicelessness in my opinion. As the abuse is told by indirect actors to the crime, it seems as if the abuse technically continues. The criminal receives a set of attorneys and officials to speak on his behalf, whereas the abused, though also represented at this stage by attorneys and officials, must now deal with the weight of his/her story being lessened, primarily due to the removal of agency and voice.
I'm not sure what is the best way to deal with crimes like these, and I don't pretend to have anything close to an answer, but I wonder if there will ever be a time when the people whom we are supposed to trust, those who are there to help us, will not become another set of abusers?
A more detailed article regarding recent incidents of abuse committed by U.N. Peacekeepers can be found
here
and a more detailed report regarding abuse in the Cote d'Ivoire can be found
here.
-Wendi Muse